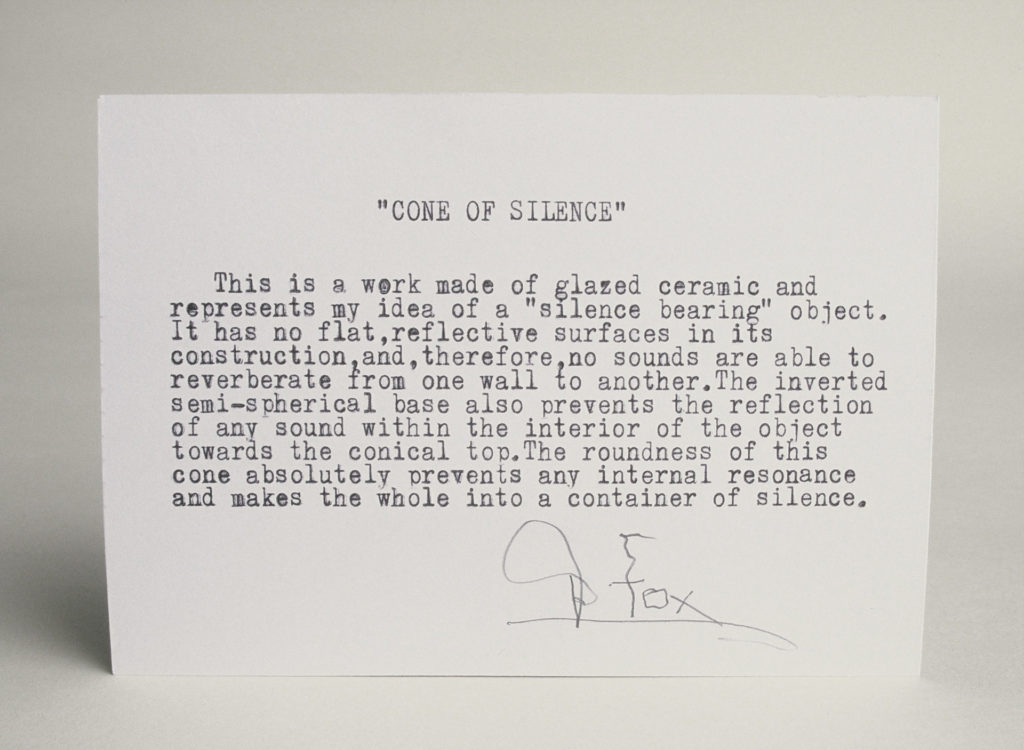 Cone of Silence
2000
sculpture
ceramic cone, hollow, with non reflective surfaces inside
edition of 11
varying size / appr. 31 x 8 cm each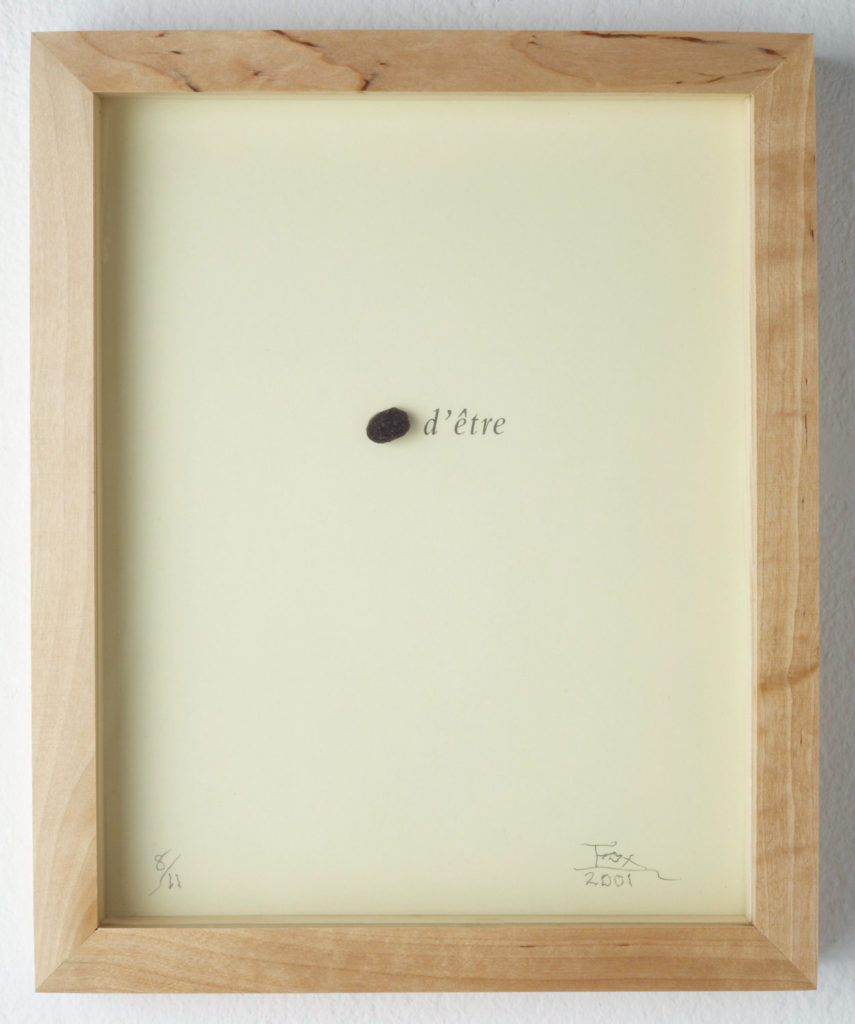 Raison d'être
2001
object
edition of 11 ex.
33,5 x 27 x 4,5 cm (framed)
text source: based on ›raison d'être‹ / RenéDescartes, The Meditations
(Meditationes de Prima Philosophia, 1641)
Untitled
2001
mobile-object, with text
three metal signs with letraset letters, transparent fishing line
40 x 4,5 cm
37 x 4,5 cm
30 x 4,5 cm
text:
»SILENCE IS NOT ACOUSTIC
IT IS A CHANGE OF MIND
A TURNING AROUND«
text source: John Cage, Silence,
Cambridge, MA / London 1961 (MIT Press)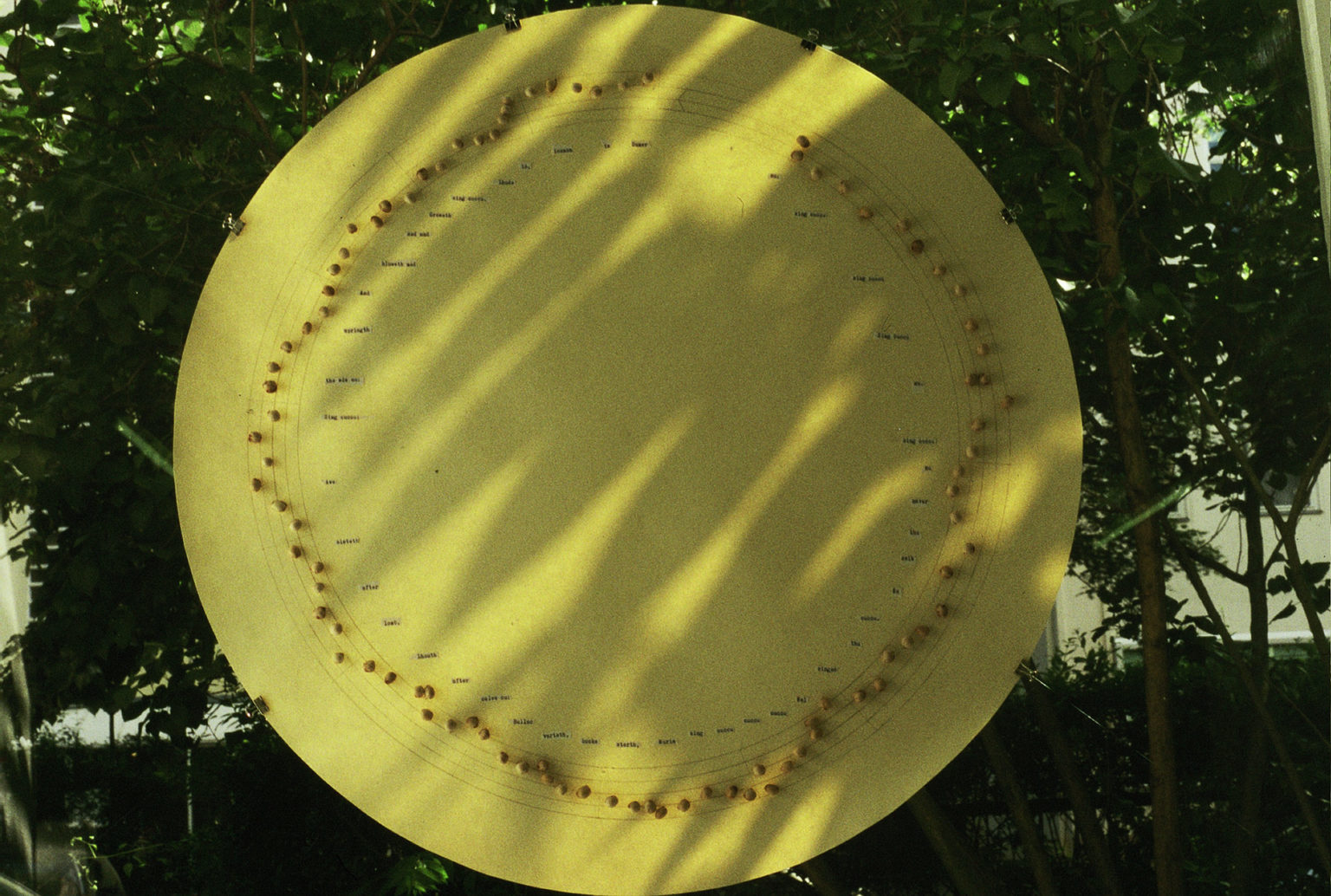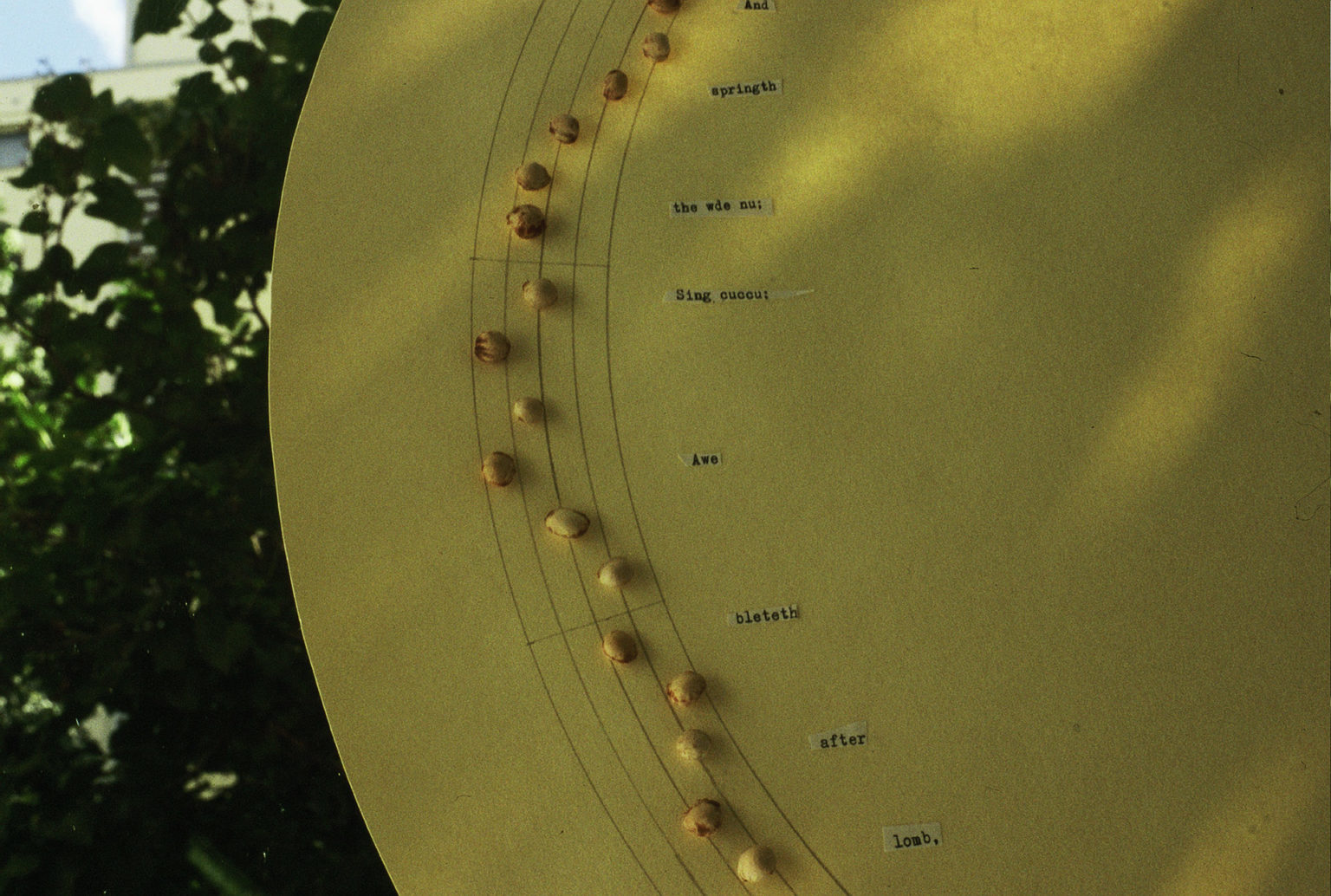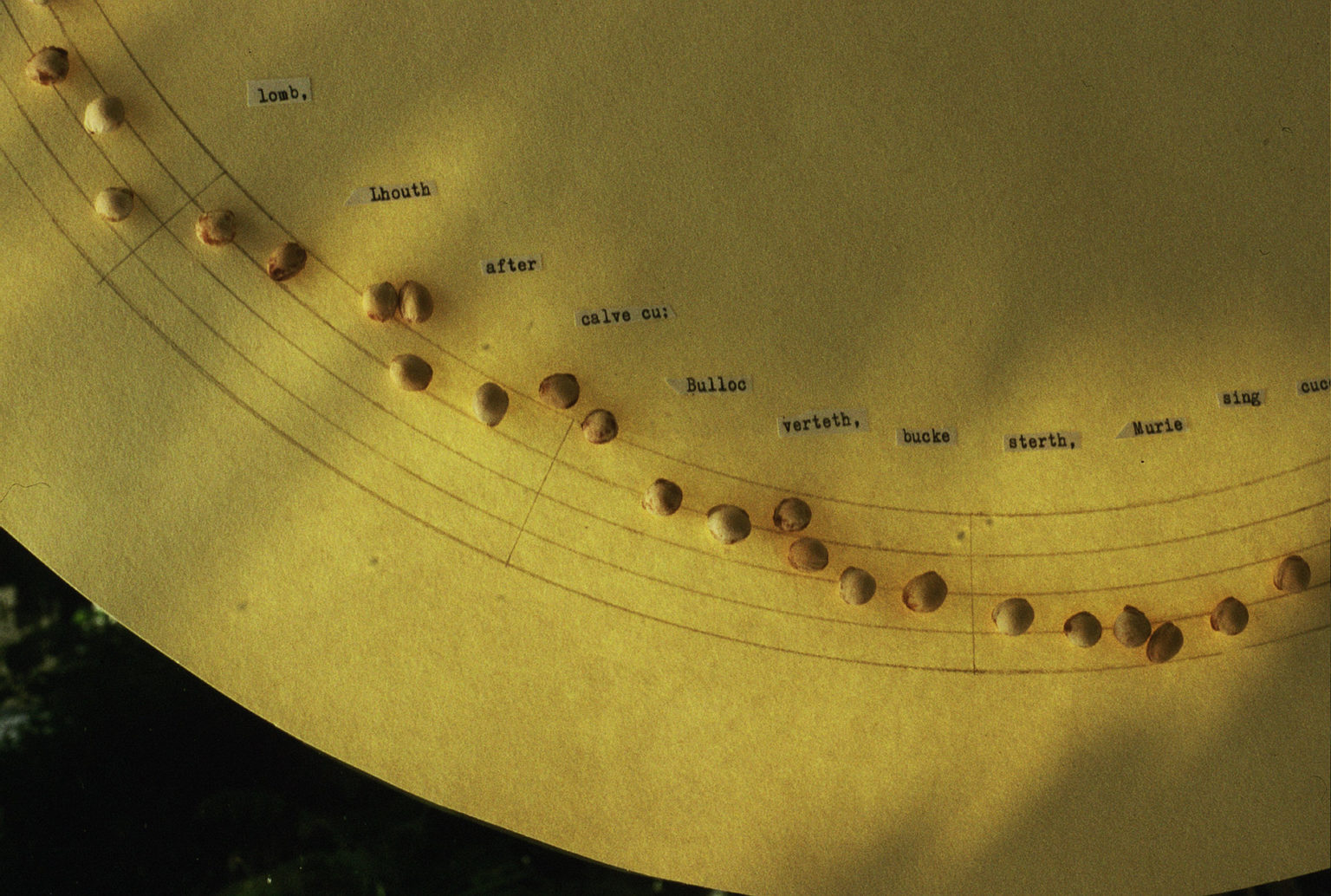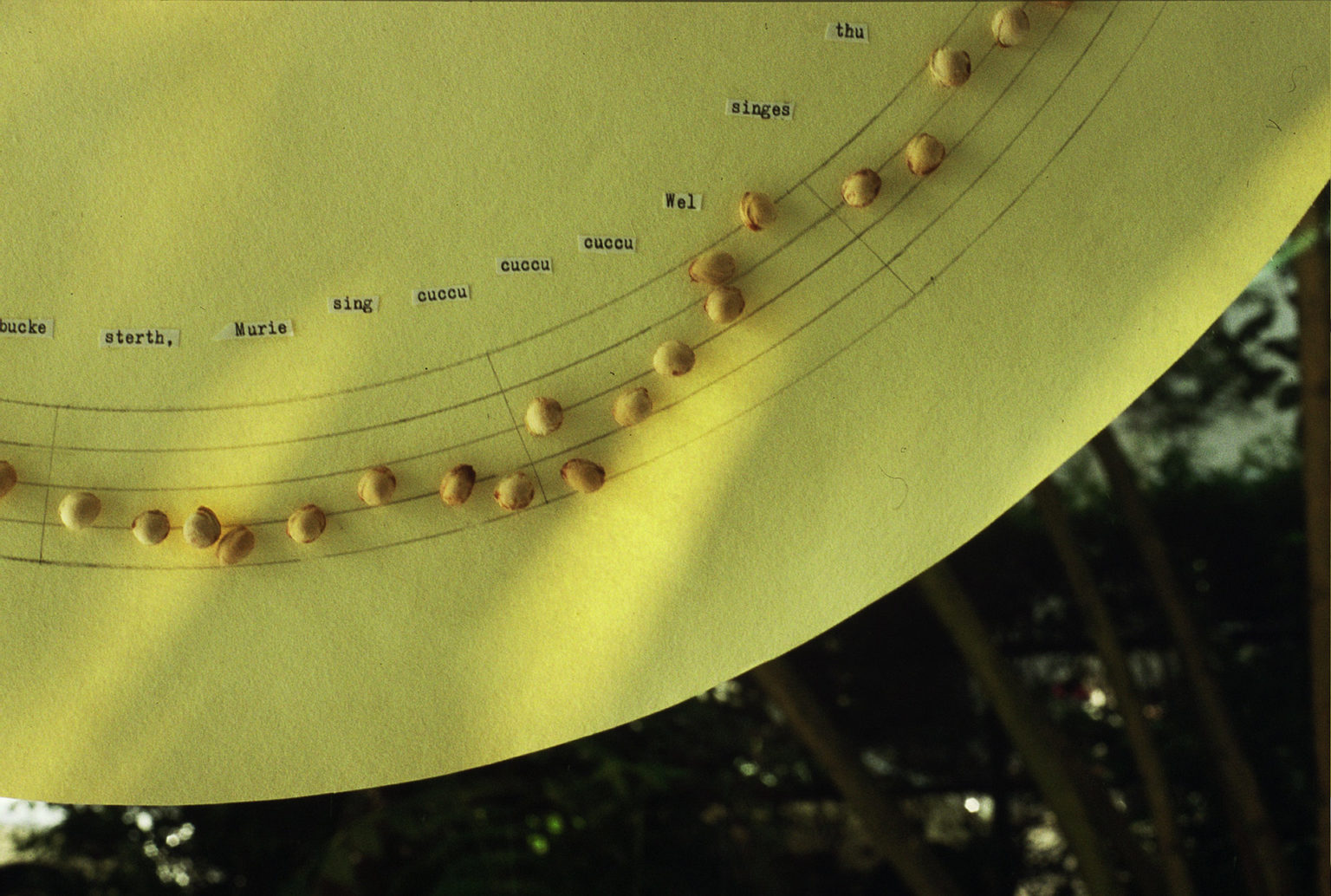 © Estate of Terry Fox & Ursula Block. Photos: Marita Loosen-Fox
Sumer is icumen in
2002
collage, with text
cherry pits, pencil, and text on paper
88,7 x 88,7 cm
location: Collection Ursula Block
text:
Sumer is icumen in,
Lhude sing cuccu.
Groweth sed and bloweth med And springth the wde nu;
Sing cuccu;
Awe bleteth after lomb, Lhouth after calve cu;
Bulloc sterth, bucke verteth, Murie sing cuccu cuccu cuccu.
Wel singes thu cuccu
Ne swik thu naver nu
sing cuccu nu.
Sing cuccu
sing cuccu
sing cuccu nu.
text source: Anglo Saxon, anonymous, 1240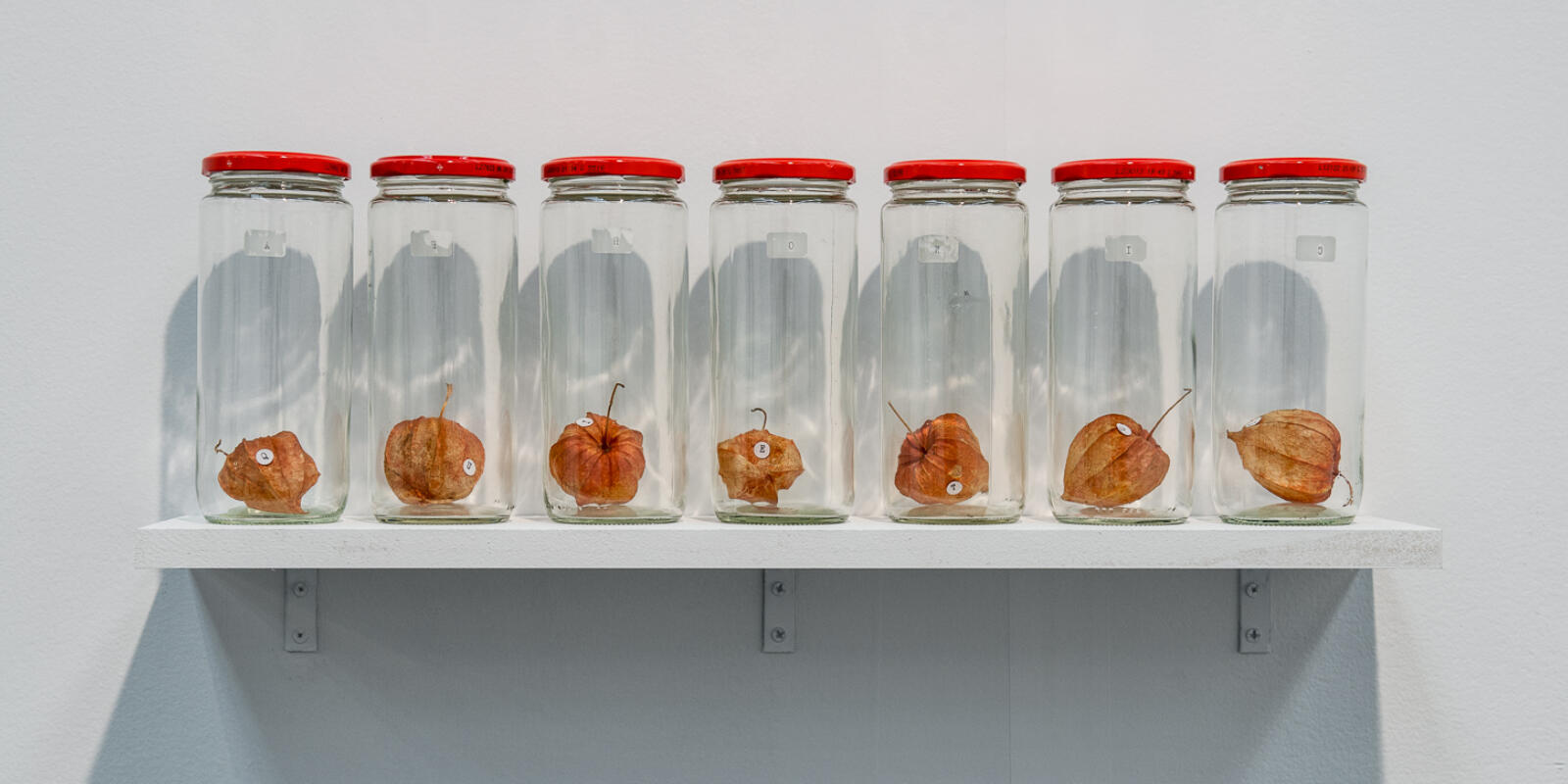 Unstationary Silence Fading
2003
object, with text
mixed media seven blossoms in seven jars, letters, white shelf
20 x 54,5 x 9,5 cm
text: aphonic quietus
text source: Latin Dictionary and Roget's College Thesaurus
title: inspired by a poem of Pablo Neruda (»keeping quiet«)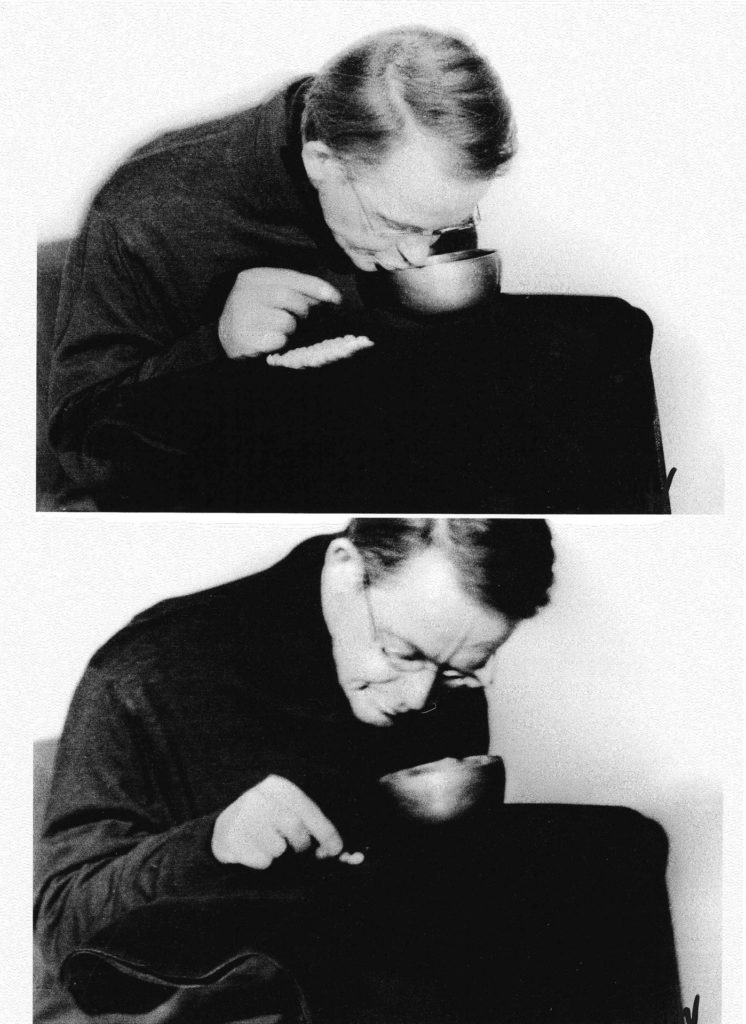 Shut Speech
2003
situation, with sound
with audience
elements: metal bowl (singing bowl), cherry stones
place: Galerie Haverkamp, Köln
Enigma
2005
installation / wall object, with text
stamp print on paper (four strips), one E-tuning fork
each strip: 90 x 3 cm
installation: 120 x 60 x 60 cm
text:
The beginning of eternity
The end of time and space
The beginning of every end
The end of every place
Fall without falling
2006
installation, temporary
12 white threads, leaves
place: garden of Georg Gartz and Martin Turck, Köln
Silence
2007
sculpture
mixed media
music stand, four paper strips, John Cage's score 4'33
four paper strips: 90 x 2 cm
text:
WHAT GAVE ME COURAGE TO DO IT WAS SEEING THE WHITE
EMPTY PAINTINGS OF BOB RAUSCHENBERG TO WHICH I
RESPONDED IMMEDIATELY NOT AS OBJECTS BUT AS AIRPORTS
FOR SHADOWS AND DUST OR AS MIRRORS OF THE AIR
text source: John Cage, I-VI, Harvard University Press,
Harvard 1990 / 4'33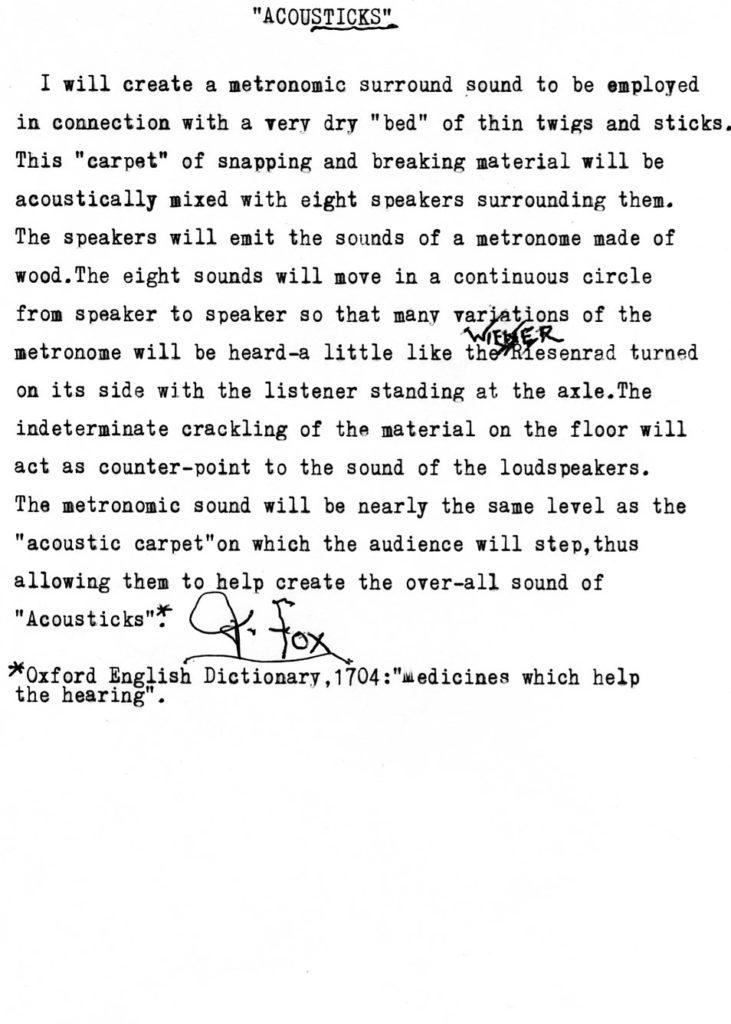 Acousticks
2008
installation, temporary, with sound
8-channel
place: quartier 21, MQ, Museumsplatz 1, Vienna
exhibition: TONSPUR 23 für einen öffentlichen raum, 25.02.–31.05.2008,
MQ MuseumsQuartier Wien
»I have used a metronome in the past for different projects as a timing divice but never as an instrument on its own. The invitation by Georg Weckwerth and Peter Szely to make an eight channel sound tape to be installed in a passage of the MuseumsQuartier in Vienna seemed to me the perfect time and situation to create a work only for metronomes. While working on the concept I found out that the prototype of the metronome was built and patented in Vienna 1816 by Johann Nepomuk Mälzel – a wonderful coincidence for me. I chose to use for Acousticks a wooden metronome, beating eight of its measures from ›Largo‹ (40 beats a minute) through to ›Prestissimo‹ (208 beats a minute), one for each track, criculating in a counter clock wise pattern around the TONSPUR_passage, creating a ›virtuosic‹ pattern of sound. [Acousticks: Oxford English Dictionary, 1704: ›Medicines which help the hearing‹]«
(Terry Fox, text: exhibition flyer)
Healing Salve
2008
concept (Terry Fox wanted to realize the idea as his next project)
»A healing salve – not for the wound but for the knife.«