Collaborations with Alan Scarritt
White Bread
1984
with Terry Fox and Alan Scarritt
performance / situation, with sound
with audience
place: Pillsbury Gold Medal Building, Minneapolis, Minnesota, USA
elements:
white sneezing powder, shouted words/phrases from the text drawing-series Catch Phrases (Terry Fox)
baseball, silo, large sheet of plywood (Alan Scarritt)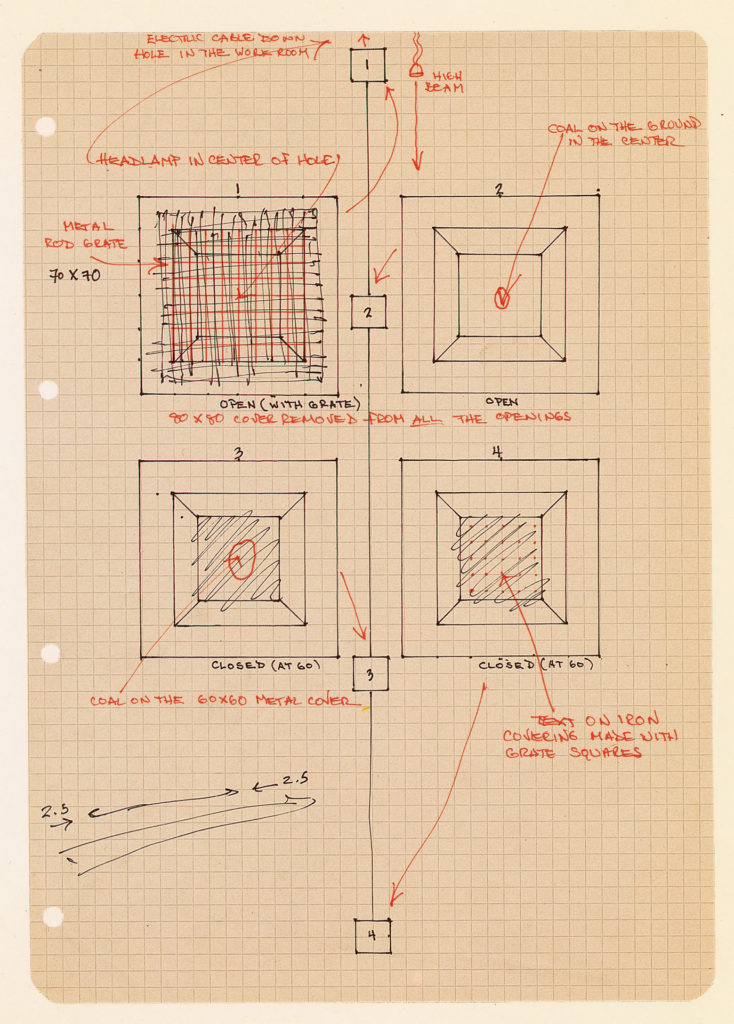 © Estate of Terry Fox & Skulpturenmuseum Glaskasten Marl. Photos: Olaf Bergmann
L'Ram
1994
sound installation
concept: Terry Fox
realisation: Alan Scarritt
place: Skulpturenmuseum Glaskasten, Marl, Germany
elements: tape loop (segment from 552 steps through 11 pairs of strings, 1976), placed under a false floor in the space, two chunks of coal
(part of group exhibition Die Stillen, Skulpturenmuseum Glaskasten Marl, 1994)
»On July 3, 1994, Terry suffered a heart stoppage following complications from a double by-pass heart operation in June. That night I flew to Europe to find him in a coma, which has left him unable to complete his plans for his installation L'Ram for the Skulpturenmuseum Glaskasten in Marl. Marita Loosen and Uwe Rüth asked me if I could help realize his piece as I have known Terry and his work since 1971 and also work in sound and installation. We agreed I would utilize the elements of the piece he had already prepared in his studio in Liège in May and June and I had access to his notes for the project.
Terry specifically planed [sic] to use recorded sound in this installation, which he has rarely done since the early and mid seventies. The sound for L'Ram is from this period and like the Marl installation utilized two spaces, one above the other, separated by a floor. This is a theme which echoes throughout his work since he began exploring aspects of the labyrinth of the Chartres Cathedral. The labyrinth is located in the floor of the cathedral and is midway between the roof and a stream which flows 37 meters below the floor. The sound for this piece (›552 steps through 11 pairs of strings, 1976‹) was made by stretching piano wires striking them with a mallet. During the performance the audience sat in the space below (the studio of Terry's twin brother Larry) and heard the acoustic sound of the vibrating floor and watched the performance via live closed circuit television shot by his brother. All other elements of L'Ram were described in Terrys [sic] notes for the planned exhibition in Marl. My intention is to install a piece that evokes both Terry's presence and his absence.«,
Alan Scarritt, Liège, August 14, 1994«. In: "Die Stillen", exhibition catalog, Skulpturenmuseum Glaskasten Marl, 1994, p. 38