Collaboration with Joseph Beuys
Isolation Unit
with Joseph Beuys and Terry Fox
1970
action / situation, with sound
place: cellar of the Kunstakademie Düsseldorf, Germany
duration: approx. one hour (November 24, 1970)
»Isolation Unit (…) was performed in a small, empty, coal storage room. We worked simultaneously, although independently, but frequently came together, particularly in relation to sound. The materials Beuys used were: his felt suit, a dead mouse*, a silver spoon, a small silver bowl, a reel-to-reel tape recorder and a "passion fruit". I used a candle, a window with four panes, two iron pipes: one very long and one vers short, a napalm like substance (cooking jelly), and a light bulb suspended just off the floor.
During the action, Beuys gave the mouse a ride on the recorder and moved very slowly about the space with the mouse in his hand. I formed the jelly into a cross on the floor in front o the window and lit it on fire, smoking a cigarette without inhaling as the jelly burned behind me. Then I played the pipes by first striking the long one against the floor to create a deep, resonant, bell like tone, and then striking that pipe with the shorter one to cause double tones. Finally I moved to the window and, using the sound waves emanating from the pipes, searched for accoustically dead spots in the glass. When these were found, the glass was shattered with the pipe. As this was happening, Beuys stood still and stiff and slowley ate the fruit with the silver spoon. The small silver bowl was placed on the floor between his feet, and as he ate the fruit he allowed the seed to fall into it, one by one creating a high ringing sound.«
Excerpt: "Terry Fox – works with sound", Stadtgalerie Saarbrücken, 1999, p. 59
*For Joseph Beuys Isolation Unit acted as a requiem dedicated to a pet mouse kept by him for three years which had just died. It was the only event in which he wore his special felt suit (a Galerie René Block multiple).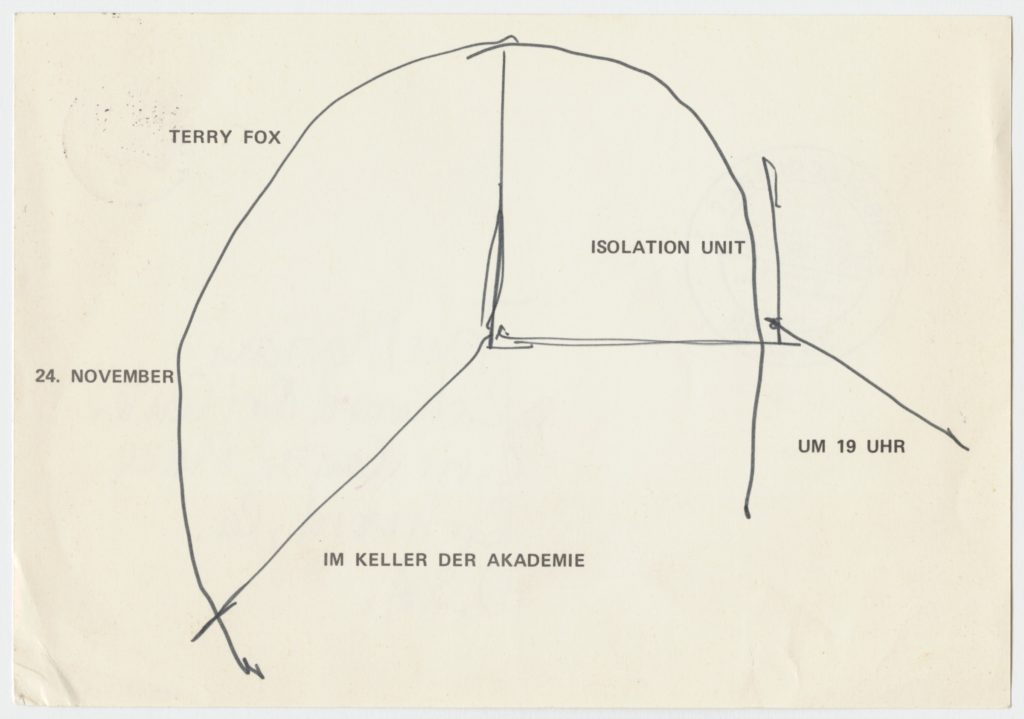 © Estate of Terry Fox. Invitation card by Terry Fox
(When Joseph Beuys one day before the action spontaneously decided to participate, Terry Fox had already printed and distributed the invitation card.)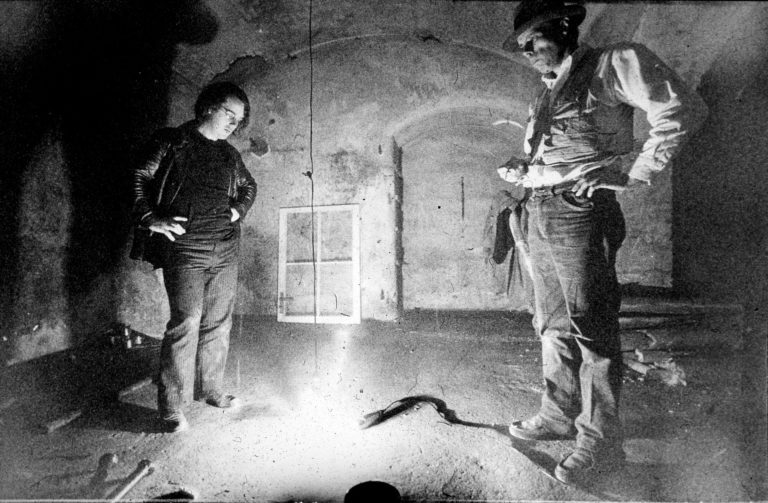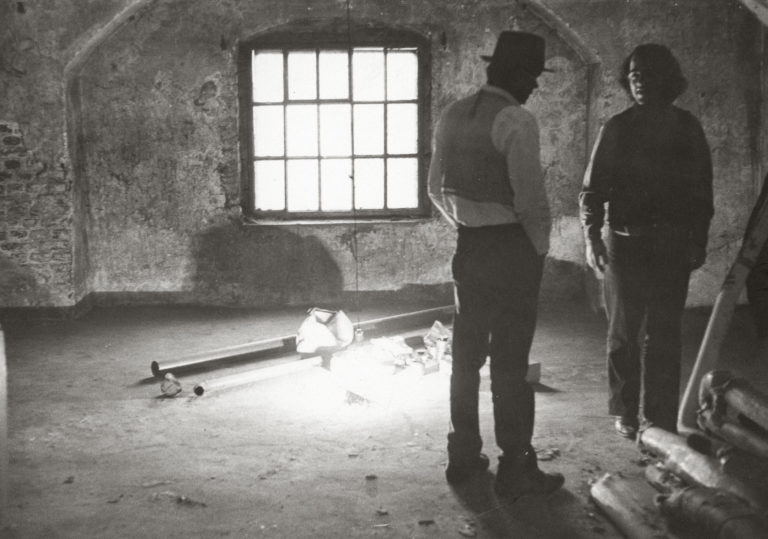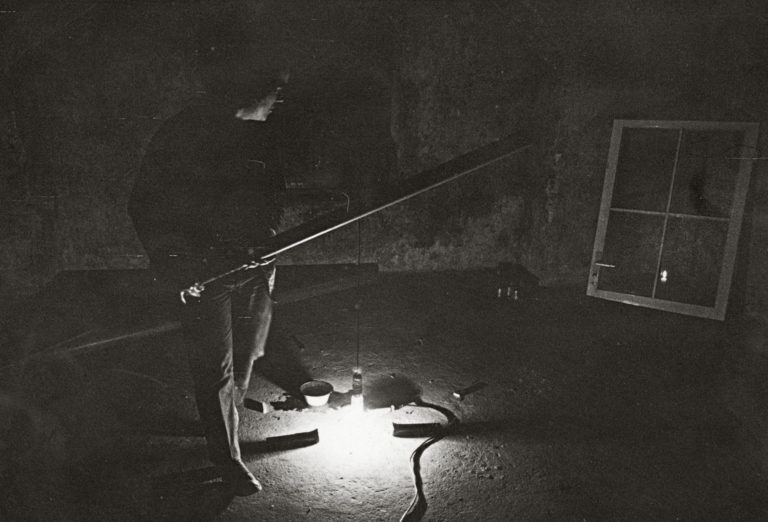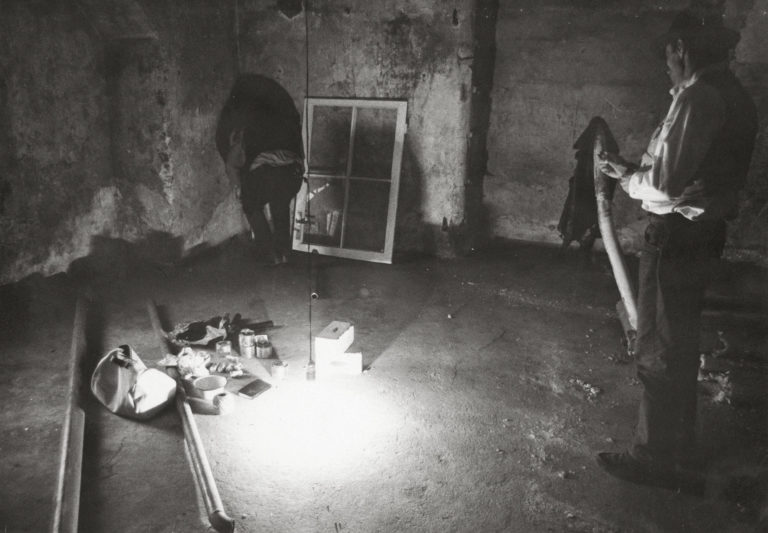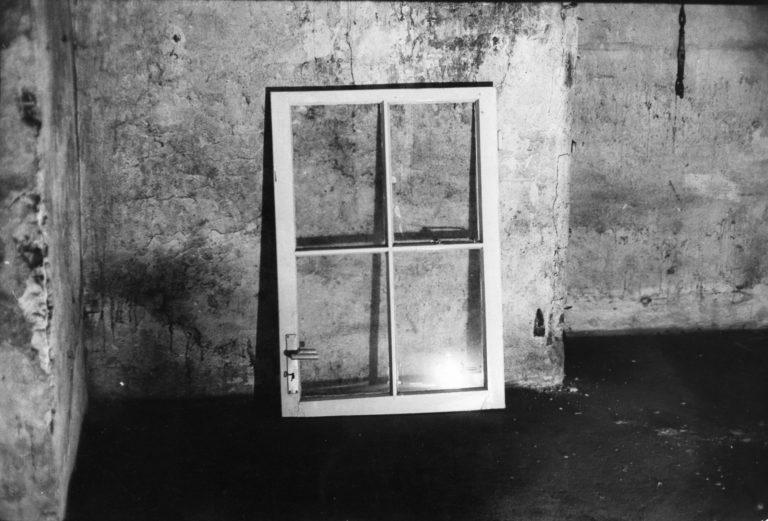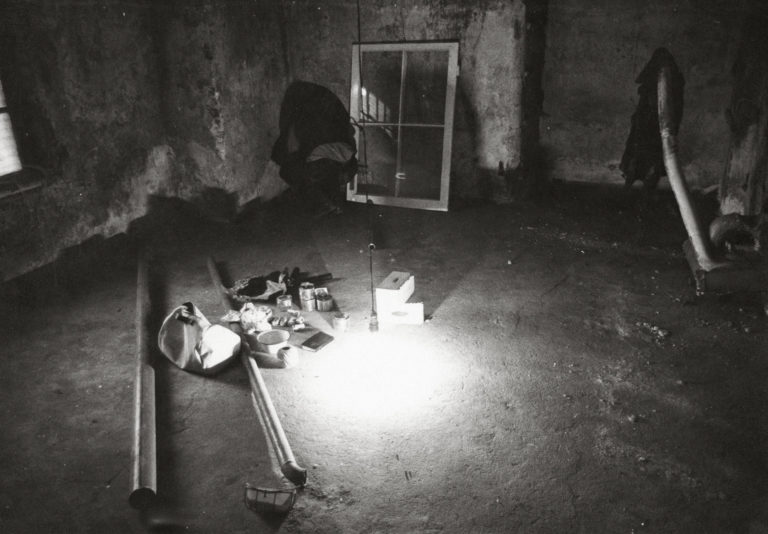 Fox and Beuys preparing the action in the afternoon on Nov. 24th, 1970
© Estate of Terry Fox & Dietmar Kirves (photos)
Del cielo del fuoco (for Joseph Beuys)
1986
wall object, with text
scratched mirror / 87 x 83,3 cm
Text: 13 lines of 8 characters each, to be read clockwise, centre 64 squares = years of Joseph Beuys' life)
location: Kunstmuseum Bern, Switzerland
»This textual mirrow was created as a hommage to Jospeh Beuys, who died in 1986. When Fox, living in Florence at that time, heard of Beuys' death by chance on Italian TV, he spontaneously decided to produce "a kind of tombstone" with the found mirror. Fox's text was inspired by Beuys' perfromance Ja, ja, ja, nee, nee, nee (1968), and written in the form of the arms of a cross set around a central square. (…) the first sentence is taken from a postcard Beuys sent to Fox in 1970 (…) the other sentences are decontextualized fragments of presumably other letters or conversations, including:
YES VERY NICE FROM YOU TO TRIP / YES I THANKFULLY WILL / YES I FEEL IT SO / NO THEREFORE I WONDERED / NO DONT TELL ME LESS / NO ITS A DISTANCE AWAY / YES SO IM OFTEN ASKING / YES ITS NOT FINISHED QUITE / YES COULD IT NOT BE / NO I GIVE GLADLY IT / NO I THANK YOU THE SAME / NO I DONT MORE FEEL FOR IT / YES I HAVE BUT FEW / YES I SHALL HELP AS I CAN / YES I ACCEPT YOUR ARGUMENT / NO I CANT CATCH THE TIME / NO I THINK ABOUT IT / NO I ALSO FOLLOW SOON / YES I FEEL IT DEEP / YES SO I DID OFTEN / YES IT COULD HAVE BEEN ANOTHER / NO I CANT ANSWER IT / NOT IT IS TOO MUCH FIXED / NO MY MY NO
The sentences form strings of words divided into thirteen lines each with eight letters. They are read in a clockwise direction, as is the central helix. In contrast, though, the engravedd square in the center is divided into 64 smaller squares matching Beuys' age when he died. Each of the smaller squares is marked with dots, with each dot representing a year of Beuys' life. The dots in the spirally arranged fields gradually increase and become denser, leading in the end to an artistic and sculptural resolution. According to Terry Fox, the center "becomes a window through the mirror", and so symbolizes Beuys' death.
The design brings together two artistic principles that Fox had alraedy employed in earlier works: on the one hand, the performative quality of the labyrinth and, on the ohter, the mirror's appelative quality to draw viewers "into" the work.«
Excerpt: Kathleen Bühler, Performatice Traces: Terry Fox in Bern. In: Terry Fox – Elemental Gestures. Exhibition catalogue, p. 129 ff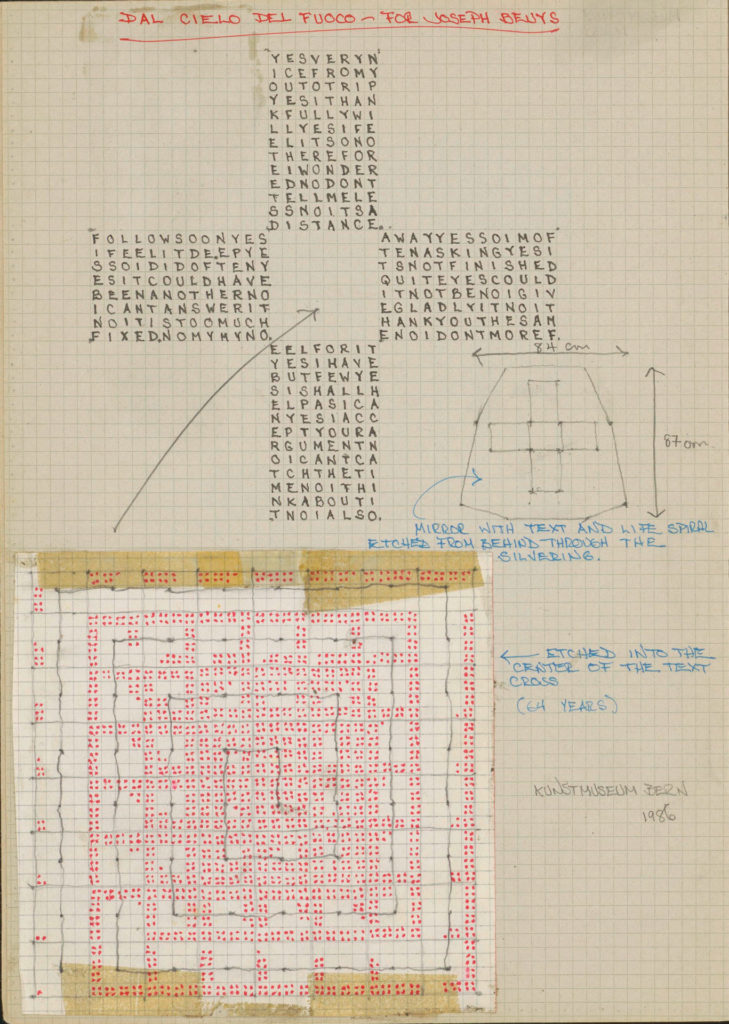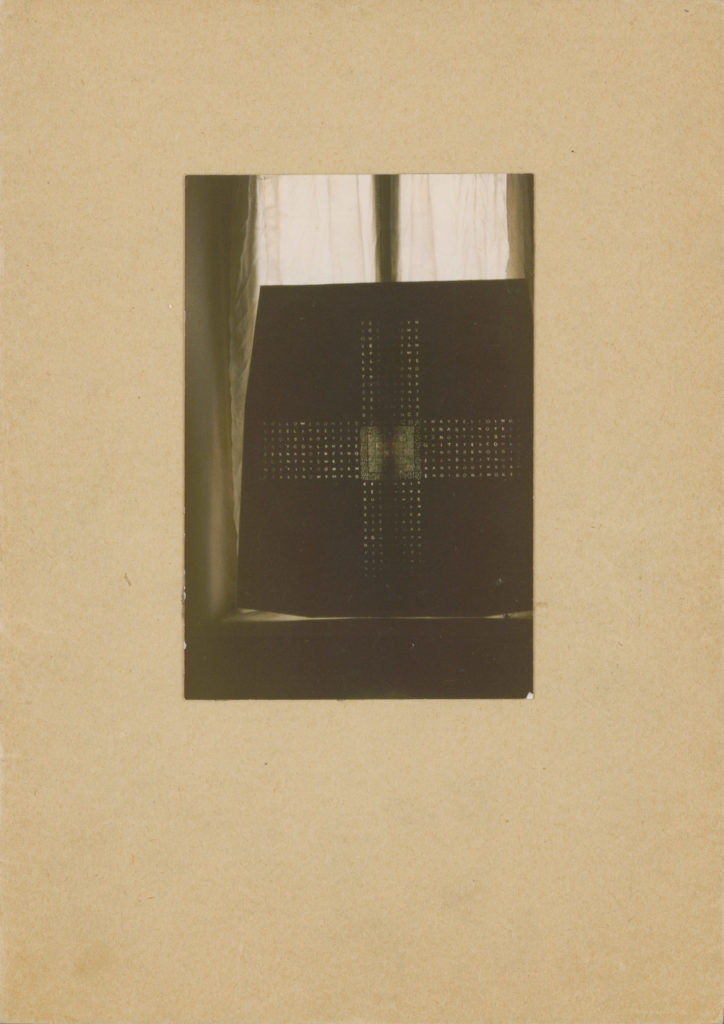 Sketch for Dal cielo del fuoco
(for Joseph Beuys)
1986
drawing
pencil and pigment ink liner on fabriano paper
76 x 76 cm
location: Kunstmuseum Bern, Schweiz